Summer Camp 2022 takes place at the Naturfreundehaus Hermsdorf on 25th and 26th June 2022. You can see the final programme here.
Follow the links below for more information about the workshops and meetings you can visit.
Saturday, June 25th
2pm: First round of workshops
5.30pm: Who are the Linke Internationals and what is this event?
6pm: First keynote discussion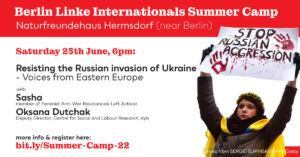 8.30pm: Book presentation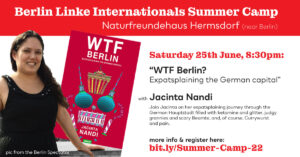 Sunday, June 26th
11am: Second round of workshops
12.30pm Report from the Left Journalism Day Schools
2pm Third round of workshops
4pm: Second keynote discussion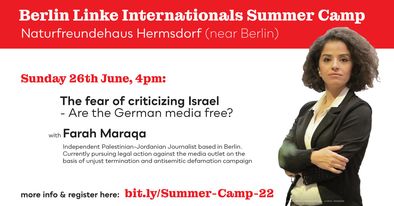 When talking about Israel In the German public, which voices are allowed? Which ones have to be silenced? Why and for whom it is to decide? In this Keynote and open conversation, journalist Farah Maraqa will share her observations on German media dealing with criticizing topics related to Israel. She will share her perspective as an Arab journalist who moved from Jordan to Berlin to work for Deutsche Welle. She raises the question: How free is the media in Germany?
With Farah Maraqa (Independent Palestinian-Jordanian Journalist based in Berlin. Currently pursuing legal action against the media outlet on the basis of unjust termination and antisemitic defamation campaign).