Not many people know that within the shiny new quarters of the Berlin Brandenburg Airport (BER), an inconspicuous facility operates, often unbeknownst to travelers passing by. This building is a detention center, constructed to deal with up to 24 individuals whose residence status is in question by the German state. However, this is set to change drastically. A far larger detention & deportation center has been approved by the Brandenburg State government, intended to expand the detention capacity to a staggering 108 places. It is benignly being referred to as an "arrival and departure centre" – painting an innocent facade and drawing attention away from the devastating track record of human rights concerns that have come with deportation in Germany.
The planned expansion was a murky process since its inception, with a formerly convicted investor projected to earn a minimum of 315 million euros over the next three decades and government intervention around hiding airline profiteers to protect them from public backlash. But most importantly, it raises critical questions about the future of Berlin, Germany and the whole of Europe.
"The reception and departure center in Schönefeld will be unique in Europe. The facility created sets new standards for rapid, networked processing of incoming and outgoing exit procedures directly at the capital city airport. It is a showcase project of international importance and top priority at federal and state level!"
– A leaked Development Report by FragDenStaat
Under public narratives of 'curbing illegal migration', the BER facility aims to lay the infrastructure for the highest possible utilization of carrying out deportations more consistently. According to the Federal Police, the BER facility will have the capacity for 2 charter deportations up with 100 deportees each, with plans to execute deportations every week. This is to be in service 24 hours, 7 days a week.
With the current geopolitical and economic uncertainties around the world, as well as the imminent future of climate migration, the center's opening is symbolic of the far-reaching implications for the future well-being of anybody without a German passport. The deportation centre is going to start being built this year, with aims to be operational by 2026. So, what is it, why should we be concerned – and what can we do about it?
Why is Germany deporting people?
In 2015, Germany opened its borders for over a million asylum seekers – a compassionate moment in the country's dark history of displacement. While this decision was initially met with a lot of support, anti-immigration sentiment driven by centrist & far right narratives quickly grew over time. Deportation has since then become a routine event. Between 2015 and 2022, Germany has deported a total of 151,670 people.

But what are the justifications? Unsurprisingly, media outlets & politicians in Germany tend to frame deportation as something that only happens to criminals to gain public support. Stories of stabbings and violence committed by men are always front and centre in the stories of deportation. Why wouldn't you want to get rid of violent individuals? In reality, the morality of this narrative is actually a lot more diluted. You can be deported because your asylum application was turned down, or because you don't have a valid residency permit. This is the reality for hundreds of thousands of people. The term criminal becomes a slap in the face.
One of the other justifications for deportation is the black-and-white fallacy around distinguishing refugees whether they are 'genuinely seeking safety' or not. In handling asylum cases, a clear hierarchy and categorization is created to measure deservingness. If you were applying from an internationally recognized war zone, it was more likely you'd receive protection. If you were from a state-defined 'safe country of origin' – your personal vulnerabilities, as well as systemic violence from the country you were living in, might not be good enough to qualify you. This critically discounts poverty, homophobia, political, ethnic & community violence – which are the main reasons people leave.
Human Rights Issues
Many of the unstable conditions that lead people to flee are the result of the European colonial legacy. In 2021, as many as 100 Tamil refugees were forcibly sent back to Sri Lanka from Germany, where they were subject to ethnic violence and torture – a legacy left behind by Europe's divide-and-conquer rule. The handbook of what defines a 'refugee' – the 1951 Refugee Convention is also massively outdated. Climate change is currently not considered a legally valid reason to seek asylum. Germany was massively criticized for deporting Pakistanis back to a region where a dangerous flood had killed thousands of people, at the height of the crisis.
Germany gets to decide whether countries should be categorized as 'safe' to return to – and can arbitrarily decide to reverse their decision. This leaves many people living in fear of having their protection status revoked, and is extremely dangerous for people's right to safety in the future. In 2021, the state banned all deportations to Afghanistan after the Taliban takeover. They're currently considering lifting the ban, despite the Taliban still being in power.
If the German state decides to deport you and you attempt to hide, you can be incarcerated in detention centers for up to 18 months. An estimated 50% of these detention orders were later found to be unlawful. Deportation enforces a violent separation of individuals from a country that they have come to see as a refuge or a new home. It involuntarily tears apart friends, families and communities – ones in which people have built up for months, years and decades.
The act itself is also carried out with so much cruelty. Raids searching for people tend to happen at dawn and dusk, with police always present. This leads to many cases of people being physically hurt trying to resist deportation. Lufthansa came under intense public criticism when a man died on a flight he was forced to go onto. In 2018, it was recorded that restraints or tethers were used roughly 300 times on charter flights. In 2020, Enter Air took a 73-year old woman with a severe lung condition who was going through tuberculosis treatment in Berlin to Moldova from a midnight raid. The entire process is a rather unpleasant job for people in on the game too. A total of 222 planned deportations from Germany in 2017 were classified to have "failed" due to pilot refusal to take off to destinations such as Afghanistan.
Who's funding it, and who profits?
The BER deportation centre is going to be really expensive. It will cost the Brandenburg state government a total of 315 million euros for rent and leases. This is all funded through taxpayer money.
The investor of the centre is Jürgen B. Harder – a well known & infamous investor notorious for his white collar crimes in corruption and bribery. Harder is projected to earn a minimum of 315 million euros over the next three decades from leasing the deportation center to the state of Brandenburg. "There are clear advantages of having an investor build and not the state itself: there is no need for coordination between the state government's coalition partners," a report by FragDenStaat states. The costs for the deportation center do not appear in the state budget until the construction is complete and the first rent to the investor is due. If the country were to build it itself, the money would have to be applied for beforehand. Then the finance minister and the state parliament would know – and could question the construction. In other words, the contract to build this deportation centre sidestepped democratic participation from politicians and the public.
It is far from just Jürgen B. Harder who will profit from these deportations. Border controls are extremely lucrative for corporations – it is a multi-billion dollar industry. According to a report by FragDenStaat, the BER facility will be designed by Karlundp Gesellschaft von Architekten, with the help of consultancy PD Berater der öffentlichen Hand & constructed by architectural firm AS+P Albert Speer + Partner GmbH.

As of 2020, you can't see which airlines are collaborating with the German state anymore. The German government refuses to name them now, for the sake of bad PR. However, a public list of around 13 charter airlines formerly collaborated with Germany, including Lufthansa, Eurowings, Georgian Airways and Bulgaria Air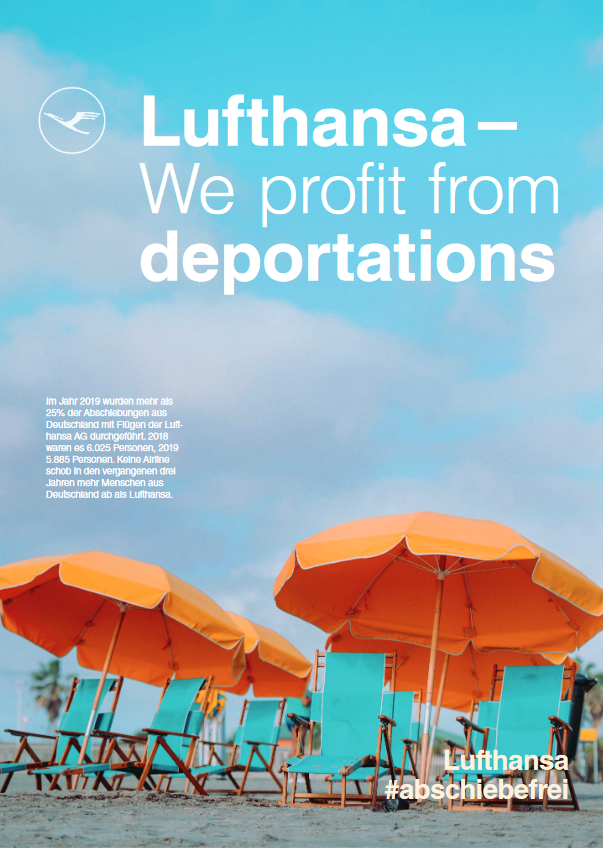 One of the airlines, Corendon Airlines made an average of around €400,000 for a single charter-deportation to Afghanistan.
Immigration processes have also began to emulate corporate-like efficiency, influenced by Big Corporate themselves. In 2016, McKinsey was hired by Germany to optimize asylum processes and cut costs. This led to proposals that resulted in poor judgement on asylum applications, bad translations and limiting access on legal advice. All throughout Europe, there also is a whole range of of AI-driven surveillance that tracks a person's biometric data, movements & behaviors – sharing this database with the entirety of EU immigration agencies. This is currently also a multi-billion dollar industry, and is actively used in Germany.
What can we do about this?
To acknowledge the elephant in the room, it was not that long ago when German authorities decided to deport millions of Jewish, Sinti, Roma & others to their certain deaths. Deportation was first introduced in 1919 on the basis of antisemitism, even before the Nazi Regime. As time and history rolled forward, this became condemned globally as an indisputable act of cruelty. Today, the lessons that should have been learned from 'Never Again' get muddled when hard lines of justifications are used to excuse the harms inflicted on minorities. It isn't genocide, but we need to call it what it is – state sponsored violence. We cannot forget that many of the people who seek asylum are still living with the direct consequences of a European colonial legacy. We can do better than this – this isn't the foundation for the future we want to build.
Black & white public narratives about migration need to change – a 2020 report found that the majority of German media outlets covered migration in a negative way – only focusing on crime, violence, the costs of integration & 'too much diversity'. Today, migration is a fact – European societies are imminently heading towards a trajectory of becoming more diverse. The BER centre is the tip of the iceberg, emblematic for the way they are choosing to handle it. We don't (yet) live in an absolute climate of silence like that of the Nazi regime, so there is still much we can do to make our voices heard. Instead of spending millions in deportations and the detention, there are effective ways of increasing social cohesion and participation in our societies. Instead of spending millions on a deportation centre, we should demand for the money to be placed where it is continuously called out for – stronger community participation, social housing and combatting the rising cost of living.
Activists in Berlin & Brandenburg have formed an initiative called Stop BER Deportation Centre along with a coalition of organisations. From June 1 to June 6 2023 their campaign Stop Deportation! Protest Camp will take place in Berlin Schönefeld. Apart from making noise around the deportation centre, "the protest camp will be a place of exchange, protest and networking," says Alexis Martel, press speaker of the initiative. "Workshops, lectures and panel talks are planned, as well as concerts, spaces for children and theater." Everyone is welcome to join.
If you want to stay updated on the initiative, join this telegram group or follow them on Instagram or Twitter. As the BER deportation centre is still really under-covered by German media, please reach out to the press team if you would like to help raise awareness on this issue.
A Telegram group has been set up by friends of theleftberlin website who would like to attend the Stop BER Deportation Camp together. You can join the group by following this link.